Spectral quantum noise filtering with EIT
The frequency-dependent transmission properties of an EIT medium can be used to manipulate to noise characteristics of a squeezed vacuum or squeezed light state. In Figure 4, we show an example of an EIT transmission window acting as a low-pass filter for the amplitude of squeezed and antisqueezed noise. Outside of the EIT resonance window, the squeezed vacuum photons are absorbed and so the noise amplitudes are filtered, becoming frequency-dependent. We have studied several such interactions of squeezed states of light with resonant atomic media to see how the quantum noise can be influenced. These studies are important to the implementation of squeezed states in quantum memory and quantum information protocols using resonant atoms.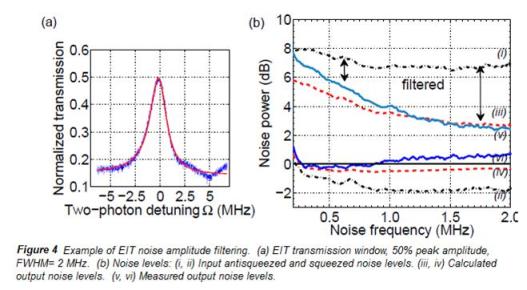 References

[1] Horrom, T.; Balik, S.; Lezama, A.; Havey, M.D.; et al. Polarization Self-rotation in Ultracold Atomic Rb. arXiv:1102.4041 2011.
[2] Mikhailov, E.E.; Lezama, A.; Noel, T.W.; et al. Vacuum squeezing via polarization self-rotation and excess noise in hot Rb vapors. JMO 2009, 56, 1985–1992.
[3] Novikova, I.; Matsko, A.B.; Welch, G.R. Large polarization self-rotation in rubidium vapour: application for squeezing of electromagnetic vacuum. Journal of Modern Optics 2002, 49 (14), 2565–2581.
[4] Akamatsu, D.; Akiba, K.; Kozuma, M. Electromagnetically Induced Transparency with Squeezed Vacuum. Phys. Rev. Lett. 2004, 92 (20) (MAY), 203602.
[5] Rochester, S.M.; Hsiung, D.S.; Budker, D.;Ciao, R.Y.; Kimball, D.F.; et al. Self-rotation of resonant elliptically polarized light in collision-free rubidium vapor. Phys. Rev. A 2001, 63 (4) (Mar), 043814.
[6] Bachor, H.A.; Ralph, T.C. A Guide to Experiments in Quantum Optics, Wiley-VCH: USA, 2004.
[7]   A. Kuzmich et al., Signal Velocity, Causality, and Quantum Noise in Superluminal Light Pulse Propagation, Phys. Rev. Lett. 86, 3925 (2001).   
[8]       R. W. Boyd et al., Noise properties of propagation through slow- and fast-light media, Journal of Optics 12, 104007 (2010).
[9] S. Barreiro et al., Polarization squeezing of light by single passage through an atomic vapor, Phys. Rev. A 84, 033851 (2011).
[10] T. Horrom et al., All-atomic source of squeezed vacuum with full pulse-shape control, Journal of Physics B 45, 124015 (2012).