October 15, 10 am – 4pm

Small Hall (behind Phi Beta Kappa Memorial Hall)

Full schedule at a glance coming soon

This year's PhysicsFest theme is

Wave goodbye to the misconseption that physics is boring and hard! Dive into fun Physics demos, new discoveries, and free ice cream!

---

PhysicsFest 2016 Photo Competition!

Submit your best photos and win up to $100!

Entries should be submitted by email to photos@physics.wm.edu with a title and caption by 11:59pm on Wednesday, October 12.

Click here for more information.

---

Join us for our forth annual

Undergraduate Physics poster session and competition

Location – Small Hall Library, 10-11.30am

Come and see what the next generation of scientists and researchers are up to!

---

Visit research labs (11 am - 2pm)

Have you ever wondered how a research lab really looks? This is your chance to see several physics and applied science labs and talk to people who work there.

For our younger visitors we offer an exciting treasure hunt – find out what color lasers you can find in each lab!

---

Daylight astronomy? Why not! Take a short elevator ride to the roof of Small Hall to see the Sun and planets as you've never seen them before.

Observations start an 10am, weather permitting.

---


Want to try your hands on physics experiments? Come to our Physics Playroom!

Fun hands-on science for everyone from 1 to 101!

Location – Small Hall 122

Open 10am – 4pm

---

Interactive demo shows

Guaranteed excitement for all ages. Who knew physics may be so much fun!

Location – Small Hall 110

Visit Small Hall Makerspace to learn how you can make your dream project a reality with a help of a 3D printer or some other tools, or to create your own reality with a vertual reality glasses.

Location – Small Hall 143, open 12 - 4 pm

---

Want to know more about cutting-edge science?

Presentations from Physics professors and students

Location – Small Hall 111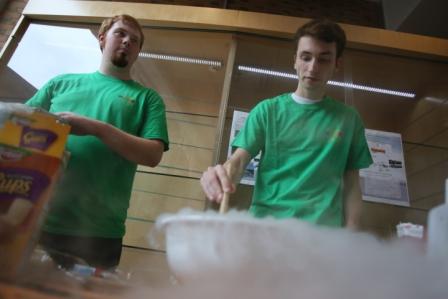 We will also make liquid nitrogen ice cream – the most natural (and tasty) ice cream you have ever tried!
Come join the physics fun!
Want to have your own PhysicsFest at home? Just check out these great books in your local library and start having fun!
Please send all questions, requests and suggestions to
physicsfest@physics.wm.edu